Jewish Families
of Frankfurt am Main
The History of the Jewish Community of Frankfurt am Main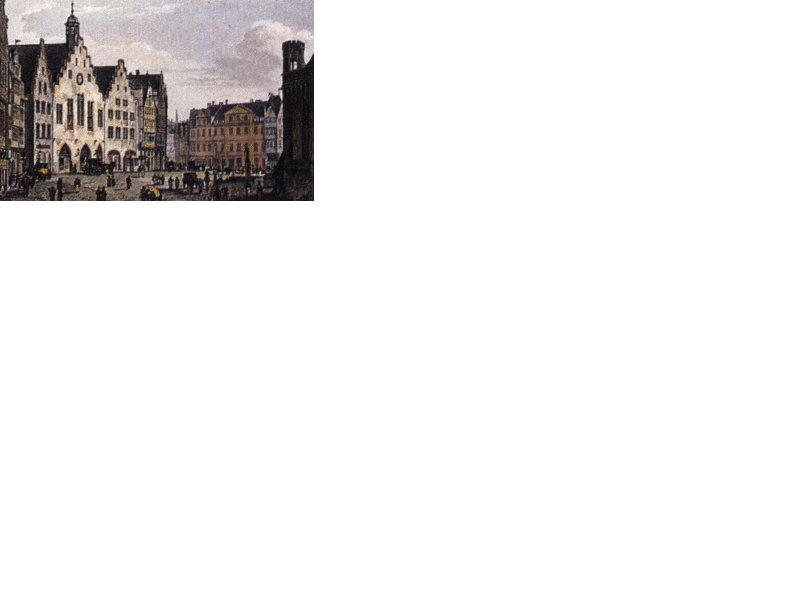 Historical view of Frankfurter Römerberg
Frankfurt is an important city in German-Jewish history. Even though one of the most modern European cities today, it is has a long and colorful history. In 1998, Frankfurt marked its 1204th birthday! Thanks to its geographical location at one of the most important crossroads in Central Europe, Frankfurt was able to thrive through the ages. Craftsmen, merchants and royal entourages met there to do business or to take up counsel. And of course, Jewish merchants came here at the request of the Kings of the Holy Roman Empire, who were elected here for many centuries.
During the 12th century, Frankfurt had organized a flourishing, yet small Jewish community. In 1241 the Jewish houses were demolished by the populace and over three-quarters of the approximately 200 Jews of Frankfurt were massacred. Frederick II issued an imperial prerogative guaranteeing safety of Frankfurt Jews and heavy penalties were ordered against Jew-baiters.
By 1270 Frankfurt again began to become a busy center of Jewish life. Throughout the century, Jews suffered persecutions and banishment. In 1360, Frankfurt reopened its gates to Jews. Their economic function was vital to the flourishing city of merchants and craftsman. However, Jews had to apply for privileges of residents by paying heavy taxes and other dues. In 1462, the Jews of Frankfurt were transferred to a specially constructed street, the Judengasse (Jew's Alley), enclosed with walls and gates. Although existence in this ghetto entailed severe physical and social hardship to the community, its inner life developed even more intensively. The population expanded even though the original area of the ghetto could not. Hence, the existing houses were subdivided and back premises and additional stories were erected.
In the following centuries Frankfurt grew into one of the most important centers of trade in Germany. At the outdoor marketplaces everyday goods of medieval Europe were bought and sold -- books, weapons, spices and cloth. The first financial dealings without cash money were carried out here. In 1585, the Stock Market was set up -- the first government-controlled money exchange to exist in Frankfurt. By the end of the Middle Ages, Frankfurt had grown into one of the richest and most powerful trade centers in Germany.
Once home to one of the largest, most energetic Jewish communities in Central Europe, Frankfurt's cultural and economic development was greatly influenced by generations of such prominent families as OPPENHEIM, SPEYER and ROTHSCHILD. German-Jewish intellectual development was formed by such native sons and daughters of the city as Ludwig Börne, Erich Fromm, Theodor W. Adorno and Anne Frank. Other great thinkers came to Frankfurt to teach and study including Martin Buber, Abraham Joshua Heschel and Franz Rosenzweig. Because of the Holocaust fifty years ago, this thriving Jewish culture was wiped out. Today one can visit the Rothschild House, the home of the Jewish Museum, and the old Jewish Synagogue.
NEXT

---
Jewish Families of Frankfurt, Copyright © 1998 by Roger Cibella and David Baron
E-mail to:Roger Cibella